Ah, February!  Valentine's Day and…then it becomes the most boring month of the year.  Ah well.  It's been unseasonably warm this winter, but I've still been doing a lot of reading.
Things I'm Reading:
Pride and Prejudice by Jane Austen.  So we actually read this book in my Modern Texts and Contexts class, which is fine, but I have read it about a thousand times.  However, C.S. Lewis pointed out the importance of rereading your faves (and Pride and Prejudice is one of them!) so coming back to Elizabeth and Mr. Darcy is always welcome. Pride and Prejudice is not my favorite Austen book (Emma will always be my favorite), but I do love it and I enjoyed discussing it in class.  I love the films too, the Colin Firth version and the Keira Knightley version.
The Importance of Being Earnest by Oscar Wilde.  Oh, Oscar Wilde!  How I adore him.  And The Importance of Being Earnest is one of my very favorite plays, just because of how funny it was!  I remember reading this the summer before my senior year, because my high school put on a production of the play.  I desperately wanted to be cast as Gwendolen, but unfortunately, it was not to be.  Rereading it was a fun experience, especially since my best friend was cast as Lady Bracknell–so whenever I read her lines, I still hear them in her voice!  "PRISM, WHERE IS THAT BABY?!"
Zone One by Colson Whitehead.  This was the first book I've ever read by Colson Whitehead and I'm still not sure how I feel about it.  The book is incredibly bleak, but it is a zombie novel.  We read it for my Literary Theory class and it was a good choice, because there is a lot to unpack about it.  The lack of chapters drove me crazy and there were parts that just dragged on and on–but when we finally got to the end, it seemed like everything was happening all at once.  What's more, the protagonist of book, Mark Spitz, is incredibly flat.  He is the same character at the start and finish of the book, with no conflict or characterization arc.  I can understand why this is, given his purpose in the book–but it's incredibly jarring and unusual.
Fun Home by Allison Bechdel.  I've been trying to read more graphic novels and I find the little half hour block I have between getting off work and waiting for my "Mind Body Wellness class (I needed a one credit class that was cheap, sue me) the perfect time to do so.  I knew Allison Bechdel as the originator of the Bechdel test–common little thought problem feminists use to talk about female presence in media.  The Bechdel test asks: "Are there more than one female character?  Do those female characters talk about something other than a man?"  This test gets cited a lot, but it actually isn't a qualifier if something is "feminist" or not.  It's just a way to hallmark the role and presence of women in media.  In any case, Fun Home is a memoir that talks about Bechdel coming to terms with her sexual orientation and with her complex relationship with her father–in the wake of finding out that he had affairs with men and eventually committed suicide.  Poignant, funny, heartbreaking.  Highly recommend.  (The musical is really good too!)
Are You My Mother? by Allison Bechdel.  Another memoir from Bechdel, this time dealing with her relationship with her mother.  This one was a little harder to get through than Fun Home.  While interesting, it was very meta, and kept citing back to psychologists and psychoanalysts that Bechdel was reading at the time.  There were times where it was very hard to get through.  While I didn't enjoy it as much as Fun Home, I think people with a psychology background or interest would really get a lot out of it.
Can't We Talk About Something More Pleasant? by Roz Chast.  A memoir by cartoonist Roz Chast (I like memoirs), talking about her Jewish, immigrant parents and growing up in Brooklyn.  Very funny and very relatable!
Can I Get An Amen? by Sarah Healy.  I found this book randomly, while perusing the clearance section of Half-Price Books.  The recommendation by Emily Giffin (one of my favorite writers) was what struck me, as well as the incredibly relatable plot.  The story follows a character named Ellen, who is going through a painful divorce.  Her husband left her because she couldn't conceive and she is forced to relocate from Boston to her parents' house.  Her parents are right-wing American Evangelicals and the plot explores how Ellen heals from her divorce and reevaluates her faith and life.  For anyone who grew up in a conservative Evangelical background and has mixed feelings about the culture, this book has a lot of hilariously relatable moments and asides.
Things I'm Watching:

Miraculous: Tales of Ladybug & Cat Noir.  This is such a weird little cartoon, but I sure do enjoy it.  It's fluffy, kind of predictable, but really sweet and charming.  Season 1 is on Netflix and I powered through it during most of February.  It's French and takes place in Paris–but it is so clearly inspired and in love with Shojo Magical Girl anime!  The creators have obviously watched a lot of Sailor Moon and Cardcaptors.  So it's about these two teenagers that are superheroes–they have these little Avatar creatures that help them transform into their alternate personas–Ladybug and Cat Noir.  They have this really interesting love quadrilateral–they're partners, but neither are aware of the other's secret identities.  Marinette (AKA Ladybug) is in love with Adrien, who is really Chat Noir, but only sees her as a friend, however Adrien (AKA Cat Noir) is in love with Ladybug, while Ladybug only sees Cat Noir as a friend–yeah, it gets a little confusing, but it sure is a lot of fun.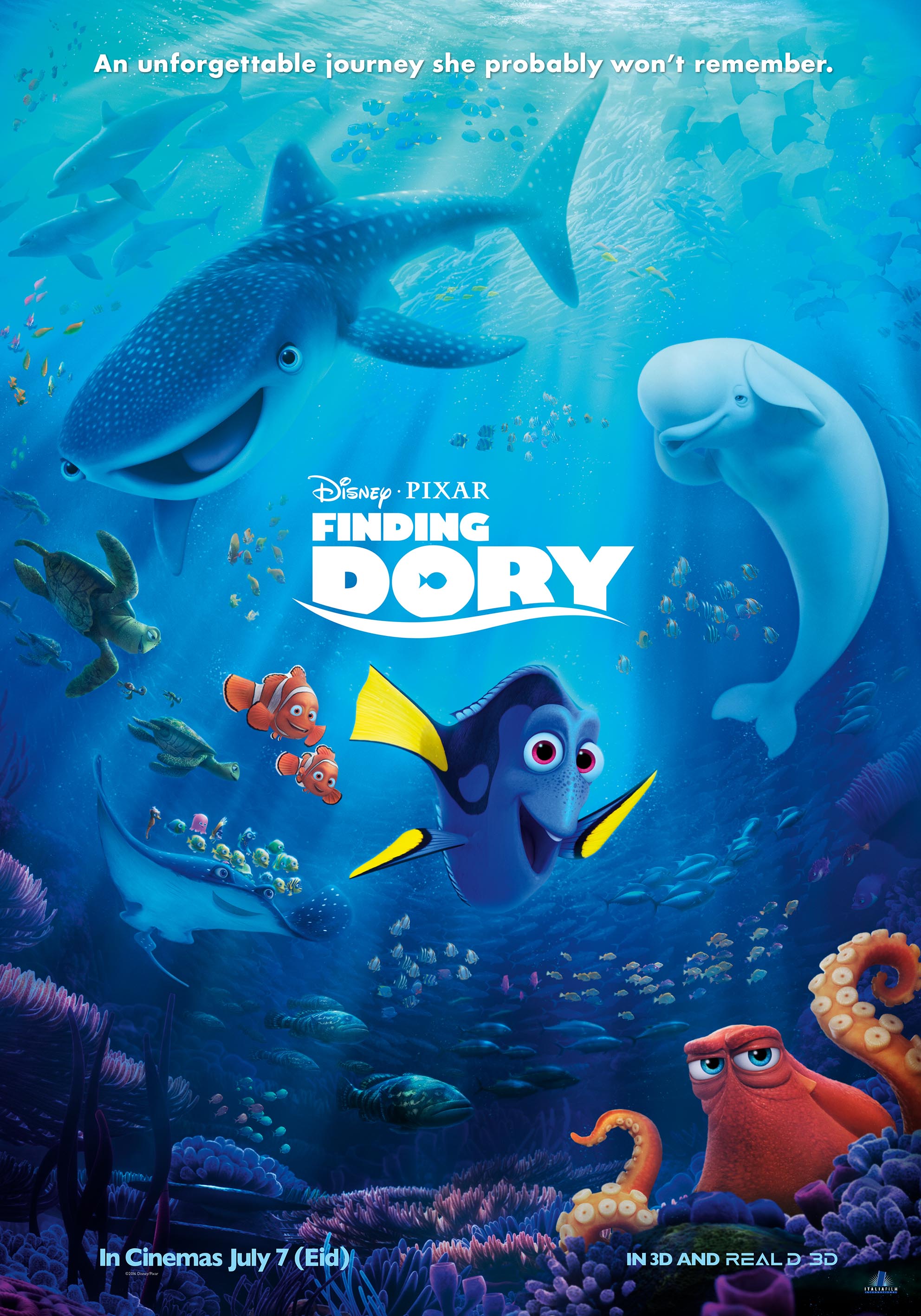 Finding Dory.  Pixar has been kind of hit or miss with sequels lately, but Finding Dory was adorable.  I watched it when it landed on Netflix and was utterly delighted.  It had lots of tributes to the original, a really lovely plot about finding family, and dealing with developmental disorders or mental illness.  My one regret was that we didn't see the sharks!  The "FISH ARE FRIENDS, NOT FOOD!" sharks!  Those were my favorite part of the original film.
The Newsroom.  I loooved The Newsroom.  I loved it so much.  I hate that there are only three seasons.  I wanted more.  I wanted it to keep on going.  This is an Aaron Sorkin creation, following the adventures of a newsroom as they keep up with political and current events.  The really interesting aspect of this show was that unlike The West Wing, which fictionalized current events, this show literally used events that happened.  The BP oil spill, the 2010 midterm elections, etc.  It is incredibly multifaceted.  Not to mention, the characterization, the dynamics, play up really well.  Emily Mortimer and Jeff Daniels have amazing chemistry.  We also get a wonderful moment where Dev Patel punches a computer screen to stop Rush Limbaugh gloating that a New York Times reporter disappeared in the middle east.  It's at least worth a watch  for that moment of satisfaction.
Things I'm Listening to:
Hadestown.  I had a very detailed post about why you should drop everything and listen to Hadestown.  Go forth.
Anais Mitchell.  Since I loved Hadestown so much, I decided to check out Anais Mitchell's other albums.  She has a lot of really beautiful music.  Her album "Hymns for the Exiled" was written during the Bush Administration and has some really haunting songs–songs, that in my opinion, are way more appropriate for 2017.  "Before the Eyes of Storytelling Girls" is my favorite, but "Two Kids" and "1984" are great too.  "Song of the Magi" off of "The Brightness Album" is wonderful.
See you in March!